Welcome to Rarotonga & fast facts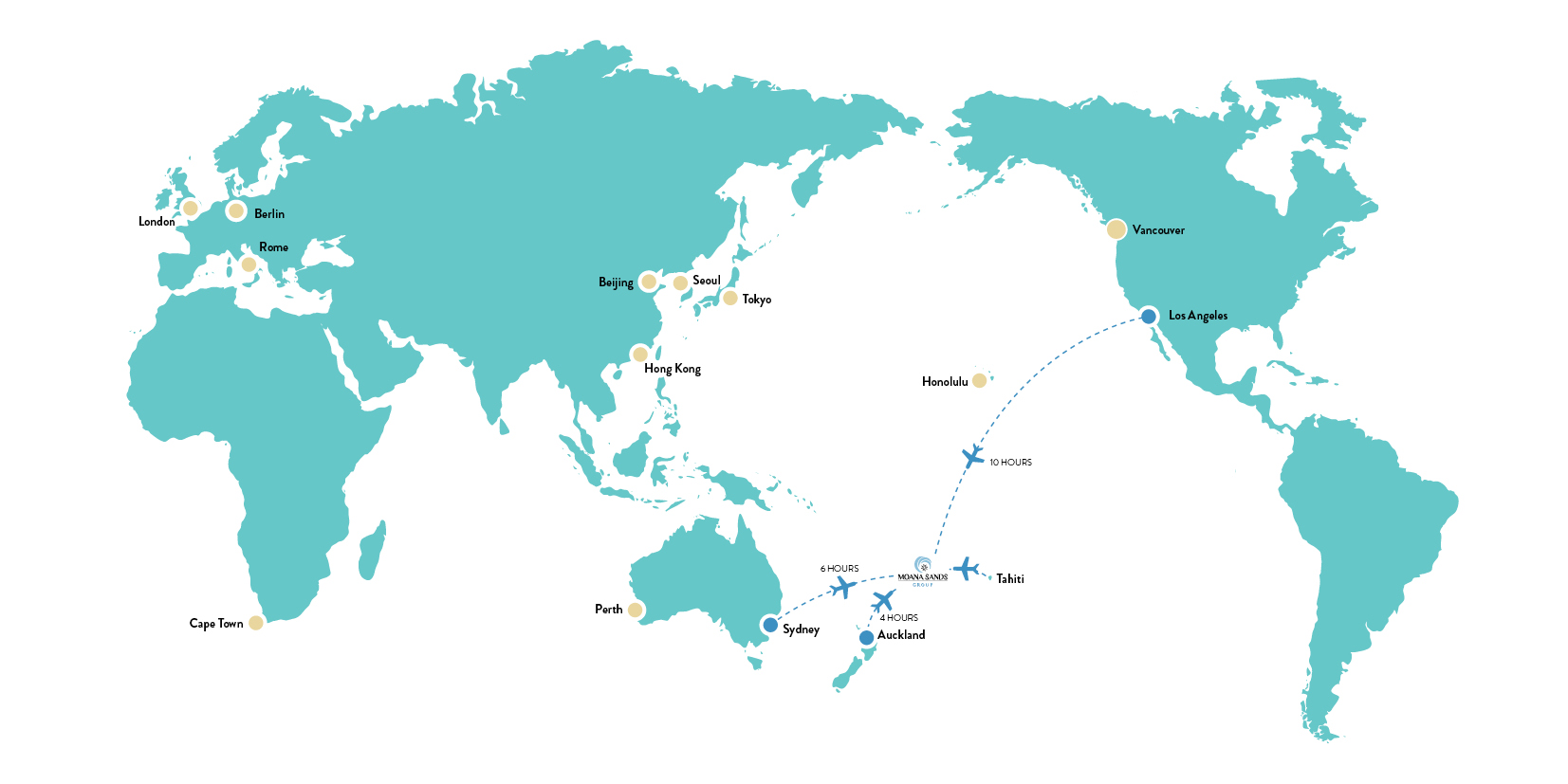 Located halfway between Sydney and Hawaii, our island of Rarotonga is paradise undiscovered. With an intoxicating blend of rare beauty, rich culture and idyllic climate, our little piece of paradise offers a surprising amount to see and do for couples, families, and friends' getaways. Though self-governing, the nation has close links with New Zealand and a high standard of living.
Rarotonga is the capital of the Cook Islands, and lies in the centre of the Polynesian Triangle, flanked to the west by The Kingdom of Tonga and the Samoa's, and to the east by Tahiti and the islands of French Polynesia. Here among your island friends, you will find the Muri Beach Accommodation hospitality warm and spontaneous, the music and dancing exuberant, and the mood relaxed … welcome to our island paradise!
Rarotonga - our island paradise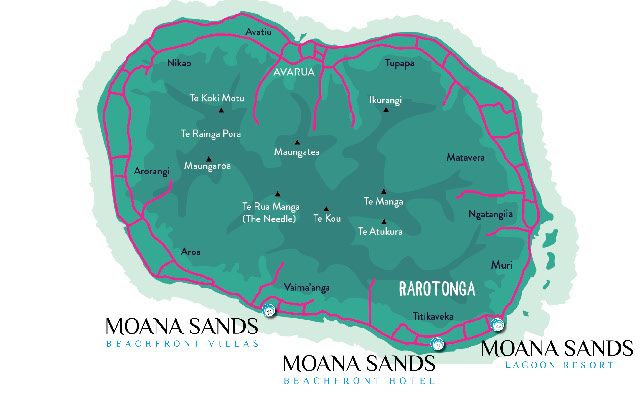 Helpful points for you to start planning your visit …
FAST FACTS

CURRENCY: The Cook Islands unit of currency is the New Zealand dollar, supplemented by local coins (if you're lucky, you may find one of our local notes!). The unique local coins and notes are not negotiable outside the Cook Islands, but are keenly sought by collectors worldwide. EFTPOS is available.

BANKING: The ANZ bank operates Monday to Friday, 9am to 3pm. There are also two local banks, being BCI (Bank of Cook Islands) and Bank of South Pacific. Major credit cards are accepted throughout Rarotonga at most shops and restaurants. EFTPOS facilities are becoming more widespread throughout local businesses, and there are various ATM's available around the island.
TIPPING: Tipping is not a custom in the Cook Islands.
WATER: Although some visitors prefer to boil water before use, it is not necessary. All kitchen taps provide filtered water at Moana Sands properties. However bottled water is available from the local shops for those who wish to purchase.
TIMEZONE: Cook Islands' time is GMT-10 hours. If travelling from New Zealand or Australia, you will arrive the day before you depart! Do your calculation before arrival, as booking accommodation to start a day too late is a common mistake.

VISA & IMMIGRATION ENTRY REQUIREMENTS: When you come to the Cook Islands, a valid passport and a return ticket will allow you a stay of up to 31 days.
For further information on immigration, please visit the Ministry of Foreign Affairs and Immigration's website at www.mfai.gov.ck. You must have sufficient funds for your maintenance and confirmed booking/payments and contact information of the accredited accommodation you intend to stay at, as camping is not permitted in the Cook Islands.
HEALTH: range of medical and dental services are available in Rarotonga. Emergency services operate on Rarotonga and there is an optometrist plus several pharmacies for prescriptions. Physiotherapists are also available.
Caution: There are no snakes and most of the insects are harmless – but look out for centipedes, which can sting. The coral reefs and passages to the open ocean should be treated with caution. Visitors must meet their own medical costs during their time in the Cook Islands, including medical evacuation to New Zealand if specialist care is required. We recommend visitors have adequate travel insurance to cover unexpected costs.
DRESS CODE: While the Cook Islands is informal and the dress is casual, it is recommended that very brief attire such as bikinis not be worn in shopping areas or public places outside of the beach and resorts, as it may cause offence in some places.
BUSINESS HOURS: Generally Monday to Friday from 9am to 4pm.
TELECOMMUNICATIONS: The telecommunications network in the Cook Islands is operated by Vodaphone Cook Islands. There is an outlet located at the CITC Shopping Complex in the main strip of Avarua which is open 8am-4pm Monday to Friday, and Saturday 8:30am-12pm. Local SIM cards are available from the main office, down the road from the Cooks Corner bus stop (also in Avarua), and open daily. International telephone, mobile telephone, facsimile and internet services (including broadband) are available through these Vodaphone outlets. Several internet cafés are located on Rarotonga, and Wi-Fi hotspots (where you can login with prepaid vouchers) also widely located around these islands.
ELECTRICITY: Voltage is 240 AC/50 cycle, the same as New Zealand and Australia. In some cases, a two pin adapter may be required.
LANGUAGE: Cook Islands Maori is the local language and everyone also speaks English. There's no language barrier here.
WEATHER & SEASONS: Always a good time to visit, Rarotonga enjoys a pleasant warm and sunny climate all year round. June to August are slightly cooler months, November to March marks the warmer season, with occasional tropical showers. The drier months, from April to November, average 26°C. The warmer, more humid and damp season is from December to March, with temperatures ranging between 22°C (min) and 30°C (max).
POST: If you are a stamp collector, the colorful Cook Islands stamps are distinctive and sought after by enthusiasts. Mail is available from the Post Office, which opens Monday to Friday 8am to 4pm.
CHURCH: Rarotonga's beautiful white coral and limestone churches fill with the soaring songs of worship on Sunday. Visitors are most welcome to attend Sunday services, but please observe appropriate modest attire of shirts and long trousers for men, and longer-length skirts or dresses for women, preferably with sleeves (short or long). The services start at 10am and finish at 11am. A church donation will be much appreciated. At the conclusion of service you may well find yourself invited by the minister to enjoy island fruits and light refreshments in the nearby meeting hall with the congregation.
MARKET DAY: Punanga Nui Market's colourful stalls open from 6am to 12pm every Saturday. The vibrant marketplace offers a wide range of fresh local produce, succulent food stalls and treats, drinking coconuts, arts, jewellery, carvings, handicrafts, T-shirts, CD's and pareus (sarongs), with performing bands or cultural groups in the rotunda. This is a social occasion for locals and visitors alike, and you won't want to miss your opportunity for souvenir shopping as well. The majority of stalls don't accept EFTPOS or credit cards, so make sure you take cash so you're not disappointed! There are also smaller markets around the various 'taperes' (villages), on the island, so enquire with our Guest Services team for details.
GETTING AROUND: The standard left hand rule applies to driving in the Cook Islands. Rental cars are available and scooters are everywhere (helmets required for visitors and locals alike). Try our local bus service for another local experience – services go clockwise and anti-clockwise around the island, with pick up's and drop off's anywhere along the bus route.
DRIVING: International visitors can now drive in the Cook Islands using their current full overseas license. On an overseas license, you will only be allowed to drive the class of motor vehicle that you are entitled to drive in your home country.

USEFUL MAORI WORDS
Kia Orana (kee-ah-oh-rah-nah) : Hello Pe'ea koe (peh-eh-ah koh-ay) : How are you?
Meitaki (mey-tah-kee): Well, good or thank-you Ae (aye) : Yes
Kare (kah-reh) : No