Hibiscus Spa
Because you deserve it...
Our popular Hibiscus Spa is located at Moana Sands Lagoon Resort in Muri. Our Spa offers an extensive range of competitively priced
spa and beauty treatments which will leave you feeling relaxed, refreshed and rejuvenated.
Highly recommended by both inhouse guests and locals, we look forward to welcoming you to our Hibiscus Spa during your stay in paradise.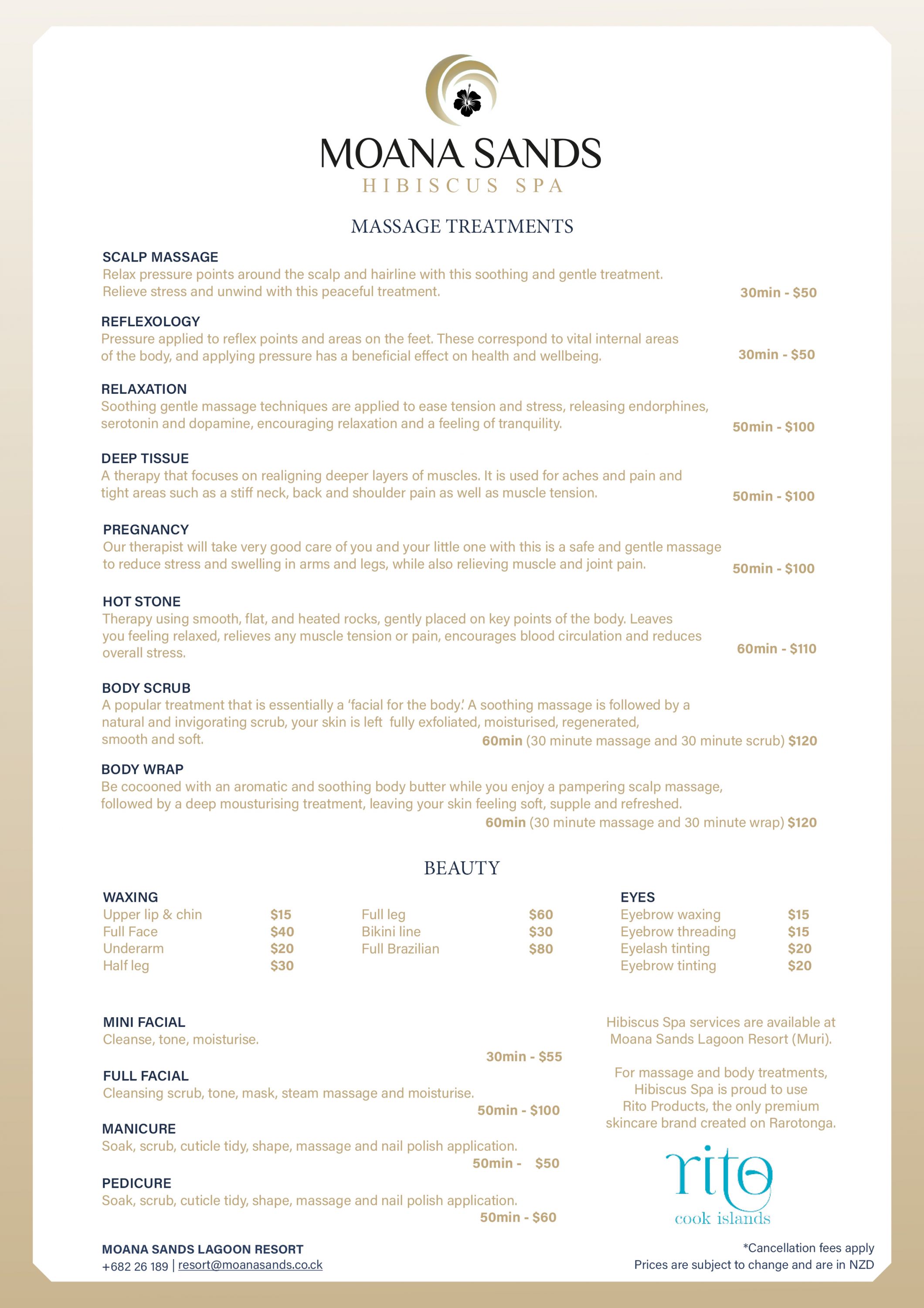 What our guests are saying ...
"I've travelled to a lot of countries around the world, and this was the best deep tissue massage I've ever had, thank you!" - inhouse guest.
"Best massages on the island! Highly recommend for a treat." - local client.
"I've had a lot of massages over the years, but that was the best!" - inhouse guest.
"I always look forward to a session with Sinta! When I walk into the spa I have so much pain and stress, but walk out feeling alive and ready to party! I always recommend visiting Hibiscus Spa, as your body will be refreshed, renewed and ready to PARTAY! Thanks Sinta." - local client.
"The first time I walked into the spa I had a lot of tension in my neck, shoulders and back... after the massage I felt so much better! I highly recommend the services of Hibiscus Spa, you will feel like you're floating on cloud nine afterwards!" - local client.
Our chosen products - Rito Cook Islands ...
Hibiscus Spa is proud to exclusively use Rito Cook Islands skincare, enriched with the finest quality active ingredients. Wild-harvested nuts, exotic flowers, sea algae and fruit extracts have been sustainably sourced from islands in the Pacific for their antioxidant, anti-wrinkle, hydrating and skin-repairing benefits.
Generations of Rarotongan skincare knowledge have been passed down to Susan Tuoro and her husband Robert who craft the products in the village of Tikioki. Rito is the only premium skincare brand made in Rarotonga and makes a positive impact on the local economy.
To make a booking, please click here to email us or call +682 26 189